PP melt blown machine nonwoven fabric production line is an equipment that used to produce pp melt blown fabric which are widely used both in face mask and medical industry. And the principle of this equipment is as below: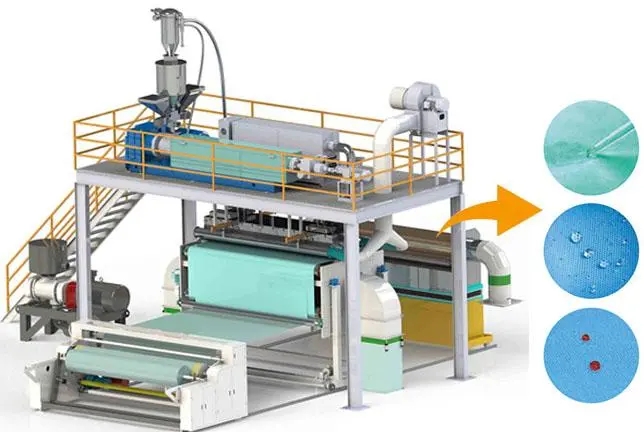 Auto Feeder feeds 100% new drawing class polypropylene into Extruder. Then pp materials are melt by heating through Extruder. Roots Blower blows the air into Air Heater and then the heated air will blow the liquid melted polypropylene materials through the Nozzle Heads (with hundreds of small holes in the mold), and finally threaded materials arrive at the Receiving car. Receiving car can be customized.
The micro-denier fiber (less than 0.1 denier per filament) is very fine, which only can be produced by melt blown process.It can not be used as nonwoven fibrous raw material alone but the appearance of nonwoven melt blown fabric solves this problem. Nonwoven melt blown fabric is anti-static, breathable, eco-friendly, soft, damp proof, recyclable, easy to shape, water and oil repellence, and antimicrobico.
The melt blown machine is made melt-blown cloth . The melt-cloth is the core material of facial mask. Melt-blown cloth mainly uses polypropylene as the main raw material, and the fiber diameter can reach 1 ~ 5 microns. More voids, fluffy structure, good wrinkle resistance, unique capillary structure of microfiber, increase the number of fiber per unit area, improve filtration efficiency. Surface area, so that melt-blown cloth has good filtration, shielding, heat insulation and oil absorption performance. It can be used in air and liquid filtration materials, isolation materials, water absorption materials, mask materials, thermal materials, oil absorption materials and rags and other fields.Medical masks and N95 masks are composed of spunbond layer, melt-blown layer and spunbond layer. non-woven fabric
The melt blown machine production lines are suitable for kinds of PP spunbond non woven fabric making. The melt blown machine can be used widely as following:
PACKAGE- Shopping bag, Rice packaging, Clothes packaging, etc.
HYGIENE – Baby and adult diapers, Female hygiene, etc.
MEDICAL – Surgeon's masks, Gowns,Caps,Disposable garments, etc.
FURNITURE – Beds cover, Seatings cover, etc.
TECHNICAL – Agriculture, etc.
FILTRATION – Air, Gas, Liquids, etc.