PP honeycomb is a new construction material, which is made of PP based on honeycomb bionic principles. Compared with traditional materials, it has these remarkable advantages like light-weight, high compressive strength, environmentally friendly, waterproof, moisture-proof and corrosion resistant etc. Moreover, it can be attached with various of face materials (such as FRP,wood grain sheet, aluminum sheet, stainless steel sheet, marble sheet, rubber sheet etc.) . Therefore, it can extensively replace traditional materials, and it can be widely used in these areas like van, high-speed train, aerospace, yachting, home furnishing and mobile architecture etc.
PP Honeycomb PP8-80 is a polypropylene honeycomb material that combines lightweight, strength and resilience. It is suitable for a wide variety of sandwich core applications in marine, road/ rail transportation, industry and infrastructure. PP Honeycomb also possesses excellent sound damping properties.
PP Honeycomb is available in plain, contoured, and double contoured finishes and comes standard with a non-woven veil and barrier film. It is also available without the veil and barrier film by special order. As the leader of Chinese plastic honeycomb industry in technology, capacity and quality, our material are widely used in high-end manufacturing industry and environmental friendly interior design industry.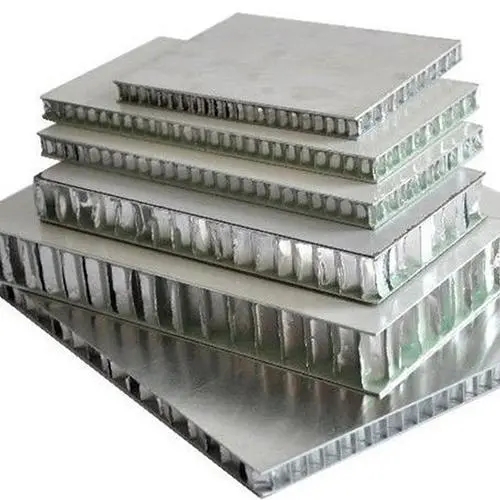 Advantages of PP honeycomb
–Lightweight
–stiffness strength
–Insulated
— Fire resistant
–Corrosion resistant
–Fungi resistant
–Energy absorption
— Excellent dielectric properties
— Good thermal and electric insulator
–Use temperature -40—+ 110celsius degree
— Available transparent and in colors
Usage of the honeycomb
1) Building curtain wall wall hanging board
(2) Interior decoration engineering
(3) Billboards
(4) Ship building
(5) Aviation industry
(6) Indoor partition and commodity display table
(7) commercial transport vehicle and container vehicle body
(8) Buses, trains, subways and rail transit vehicles
(9) For the modern furniture industry with strict environmental protection requirements, using aluminum honeycomb panels to do furniture processing materials is a good choice of materials in the new century, its completely non-toxic green quality, so that furniture manufacturers in the processing of furniture, less unnecessary environmental protection procedures; In addition, aluminum honeycomb panel panel can be diversified such as wood, aluminum, gypsum board, natural marble stone, can be made into honeycomb panel, material selection is convenient.
(10) aluminum honeycomb panel partition: the emergence of aluminum honeycomb panel partition, broke the previous traditional partition mode, with its noble, fresh, style, won the market share of high-end office space.