Melt-blown cloth is the core material of masks. Melt-blown cloth mainly uses polypropylene as the main raw material, and the fiber diameter can reach 1-5 microns. The superfine fiber with unique capillary structure increases the number and surface area of fiber per unit area, so that the melt-blown cloth has good filter, shielding, insulation and oil absorption. Can be used in air, liquid filtration material, isolation material, absorption material, mask material, thermal material, oil absorption material and wipe cloth and other fields. As the virus getting worse, the meltblown nonwoven machine is greatly demand Meltblown production line.
Spunbonded meltblown nonwoven machine production process:
The waste recovery device researched by our company ensures a high conversion rate of materials and refuse waste. Every link is precisely controlled,reaching 99% of the conversion.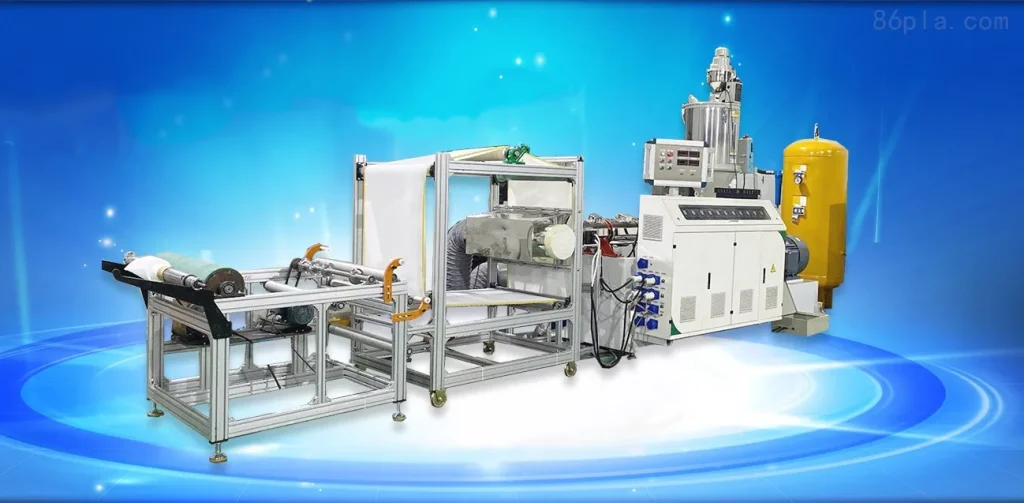 Process diagram:
This is the process flow chart of spunbonded non-woven fabric line. The whole assembly line has clear structure and perfect function. The role and function of each link are clearly visible.
Here is the introduction of meltblown nonwoven machine. Evertopest has the advance production line for PP Melt blown nonwoven fabric.The production line use Polypropylene granules as raw material and produce melt blown nonwoven fabric on line continuous.
1.The production line is full automatic pp nonwoven fabric making machine which started from pp
feeding-heating-extrusion-filtration-spinning-filament drafting-fiber forming-embossing-winding-slitting.
The production line is full automatic pp nonwoven fabric making machine which controlled by smart programming with high quality
PLC control system, the complete machine can be operated simply and maintain convenient.
3.The production line adopts well-known components/equipment such gravimetric pp feeding machine;Spinning pump;Spinneret;Carrier
cooling system and Siemens Motors/PLC etc…
Meltblown non-woven Mechanical Application
Hospitals and protective supplies:Surgical masks, surgical drapes, surgical masks, disposable clothing, surgical drapes, shoe covers, etc..Combined with other types of non-woven fabrics
Sanitary materials:Baby diapers, adult incontinence pads, women's sanitary pads, other cleaning applications.Technical engineering:Civil engineering, construction engineering, agricultural field, automobile field, etc.
Packing supplies:Shopping bags, rice bags, tea bags, clothing packaging and so on.
Household goods:Spring – wrapped cloth, bedding, seat supplies, etc.
Paper composite materials, etc. Work protection, protective clothing, gas masks, etc.