Marble PVC sheet is mainly made from PVC resin and calcium carbonate powder. it is extured with the mixture of pvc and CaCO3. Color is heat-transfer printed and uv uring at the uv room.
Marble PVC sheet can be produced with typical marble textures, and other popularly loved textures like granite, wood, 3 D and solid color for different decoration favors. Custom textures also can be made if customer offers high definition photos.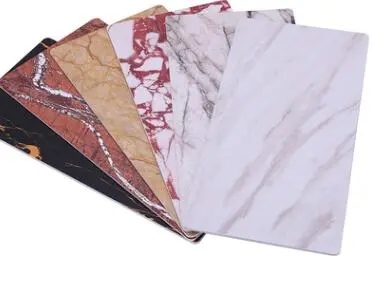 Marble pvc sheet is enjoyed widely in interior wall decoration for commercial and residential places, like hotel, hospital, office building, corridor, meeting room, office room, club, theater, restaurant, cafe house, department store, fashion store, boutique, chambers, clubs, restaurant, cafe, lab, inn, villa,  salon, house, museum, exhibition store, and so on.
1,Light weight, Good flexibility
2.Fireproof and flame retardant.
3.Waterproof, Non-deformation.
4. 4.PE film protection on the surface.
5.Accurate thickness.
6.High rigidity, Good hardness.
7.With imported dyes, unfading and anti-aging,anti-chemical corrosion.
8.Can cutting, sawing,hole-drilling, Channeling and welding,bonding.
9.Suitable to UV flatbed printing,plastic coating, membrane-stuck.
Application
A. kitchen cabinet, washroom cabinet. Building outdoor wall board, indoor decoration board, partition board in office and house
B. Partition with hollow design.Architectural decorations and upholstery.
C. Screen printing, flat solvent printing, engraving, billboard and exhibition display.