Foamed PVC sheet is also known as snow board (PVC expansion sheet) and Andy board. Polyvinyl chloride as the main raw material, adding foaming agent, flame retardant, anti-aging agent, using special equipment extrusion molding.
The foamed pvc sheet is widely used in construction, vehicle and boat manufacturing, furniture, decoration, decoration, advertising, exhibition signs, environmental protection, tourism and other industries. Through engraving machine or manual production of advertising words, the thickness of the general 0.3-2cm. There are two common production methods: one is the skin foaming, the surface of a layer of hard skin, smooth and smooth; The other is free foaming, the surface does not crust, the surface into a fine concave and convex shape (pockmarked). Common colors are white and black.
Chevy board can be comparable to wood, and can be sawed, planed, nailed, sticky, but also has no deformation and cracking without painting (a variety of colors) and other special functions; The low foamed pvc sheet can be welded, printed with ink and machined by sawing, drilling, milling and other methods.
PVC foam board, PVC foam Sheet, PVC board, PVC sheet, PVC Foam Board PVC Sign Sheet
The cellular structure and smooth surface polishing makes it an ideal choice for specialized printers and billboard makers and also an ideal material for architectural decorations. It has been widely used for signs, billboards, displays and etc. The foamed PVC sheet always ensures dependable, reliable performance and excellent effect.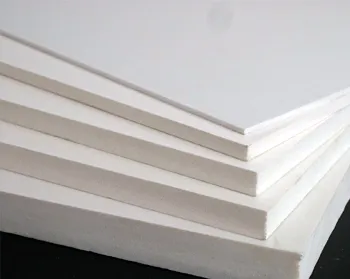 The usage and performance of the WPC PVC board foam sheet
1, Exhibition desks, shelves in supermarket;
2, Advertising/sign board;
3, Kitchen/bathroom cabinets;
3, Architectural decoration and upholstery;
4, Decoration for partition wall and shopwindows;5, Outside wallboards of buildings,disjunctivc board in public, ceilings boards.
The performance is as followings:
1, Plastic coating, membrance-stuck and printing;
2, With the usual equipment and tools, it can be processed again;
3, Welding, bonding, cutting and sawing;
4, Bending when heated-up, thermal forming;
5, Hole-drilling, Channeling and die cutting;
6, Nail, wrest and rivet.
The thickness ranges from 0.8mm to 50mm. With smooth surface, the boards can be used for professional printing.So it is commonly used in advertisement industries.Processed by weather-resistance formula, it is not easy to age, it can keep its color for long.it is a good substitute for wood and can be used for product's processing of sawing, stamping, punching, drilling, screwing, nailing. It is of water-proof and high corrosion resistance. It is good material to manufacture kitchen bathroom cabinets,bookshelves,decoration wall and widely used in interior decoration industry.