What is WPC doors? WPC doors are wood-plastic composite doors. Our WPC door leaf is made of 5cm solid wood skeleton+infillings(honey comb paper/PU foam board/Solid wood strips)+2mm WPC board coating with PVC film. Of course, WPC doors advatages are more useful that any other doors.
WPC stands for Wood Plastic Composite. Wood plastic composite (WPC) has excellent mechanical properties, high dimensional stability and can be used to form complex shapes. Wood plastic composite materials have found great application in non-structural outdoor residential decoration, and the application of other building materials is also developing, such as door and window decoration components, corridors, rooftops, car decoration materials and various equipment in outdoor gardens and parks.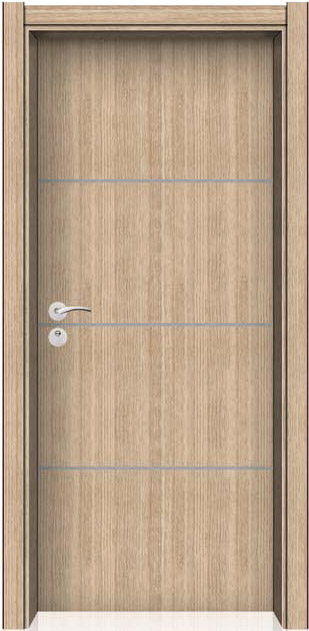 Advantages of WPC doors
The WPC doors advantage one is waterproof, soundproof, no formaldehyde,no painting,Eco-Friendly and Healthy to Human body,more durable than PVC MDF doors. The WPC doors advantage two is it can be used for Bathroom Door,Bedroom Door,Kichen Door,school door,Flat door and so on. The WPC three is there are more than 500 door designs hundreds of colors for your choice,and customized is OK. And more than that, WPC doors are more that that.
1. Waterproof & Moisture-proof:
Completely farewell to the putridness, bulge, deformation and other troubles after dampness, which can be used in special environment.
2. Fire proof:
Strong flame retardant & Self extinguishing (fire proof level can achieve 81 )
3. Sound insulation & Noise reduction:
The effect of sound insulation can make indoor energy-saving achieve over 30%.
4. Keep warm & Thermal insulation: The temperature differ about 10 degrees in winter between this kind of wall panel and the usual one. In summer, it has the unique performance of thermal insulation, which can get obvious effect of saving energy.wpc floor
5. Convenient maintenance: No crack, no expansion, no deformation, easy to clean and low cost of repair and maintenane.
6. Easy-Installation
7. Reasonable structure, high strength special cavity structure design, ensure the ideal internal structure of wood plastic foam material, coupled with excellent formula design and reasonable production process, ensure the strength of the product.
8. Quick installation structure, time-saving and labor-saving installation of wood-plastic door with Germany introduced quick installation structure, door installation is very convenient, door line and door using bayonet connection, without nail or adhesive fixed.
9. Wpc doors advantages have good flame retardant performance which will not support ignition in case of open fire, and will be extinguished automatically after activation