CPVC Pipe Extrusion Line
A variety of specifications and models of PVC twin-screw extruder can produce pipes of different diameters and different wall thickness. The CPVC pipe extrusion line is equipped with special designed screw structure, uniform plasticizing and high output. PVC extrusion die head uses high quality alloy steel manufacturing, channel surface with brightness and anti-corrosive. Wide flow channel design to ensure the retention time of the melt in the die head and the largest extrusion production. In view of the large diameter CPVC pipe,the vacuum tank used double vacuum chamber structure design, equipped with a circular plate, making pipe roundness and forming better. Haul-off unit uses 2 to 10 caterpillars, mating with different specifications of the planetary cutting machine. It adapts to all CPVC dimensions pipe production.
CPVC pipe extrusion line is mainly used in the production of Agricultural water supply & water discharge system, architectural water supply & discharge system, wire laying system, etc. purposes. >>The unit consists of Conical (Parallel) double screw extruder-PVC pipe mold-Vacuum forming tank-Haul-off machine-Cutting machine-Stacker/Belling machine. >>And the line can be equipped with Comptroller thickening instrument or computer ink-jet printer, etc. to achieve the production and manufacture of high-grade tubing.
The process flow: Screw Loader for Mixer→ Mixer unit→ Screw Loader for Extruder→ Conical Twin Screw Extruder → Mould → Vacuum Calibration Tank → Four claws Haul-off → Planetary Saw Cutter → Belling machine/ Tripping Table → Final Product Inspecting &Packing.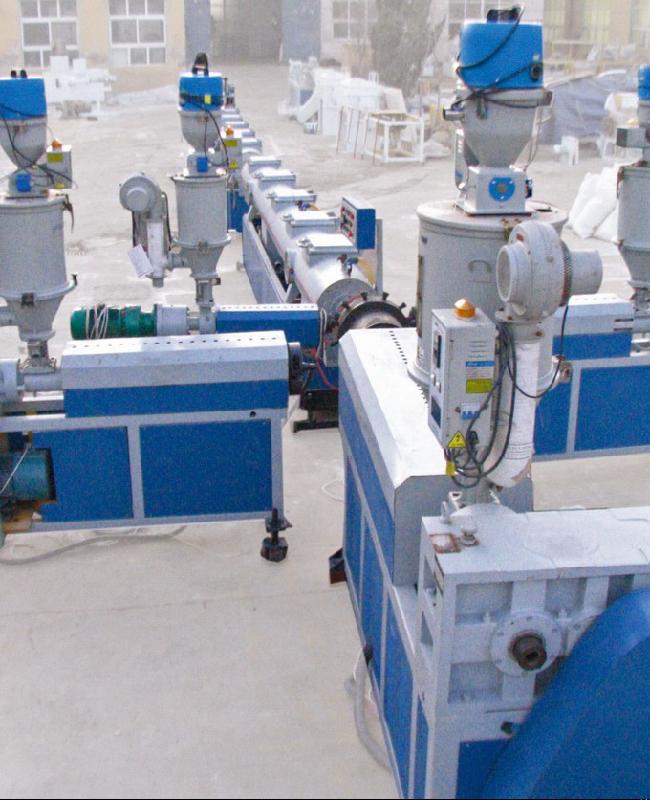 The problems for the CPVC drainage pipe making by pipe extrusion line
CPVC drainage pipe in China's plastic pipe industry output accounts for about 50%, is the most widely used in China, early application, users are the most familiar with the plastic pipe. However, in the inspection, we found that it is the CPVC drainpipe that has many problems.
This is because the poor performance of PVC resin, the processing range is relatively narrow, forming conditions and extremely GouKe, so for CPVC pipe production enterprises, to find the best additives (such as stabilizing agent, modification agent, lubricant, filler, etc.), the optimal proportion and the reasonable technology research, is the premise of guarantee the quality of plastic tubing, introduce several kinds of plastic tubing to common problems.
Plastic pipe problem one: poor tensile strength and toughness. The tensile strength curve of good CPVC pipe should have obvious yield and high elongation, while the poor plastic pipe is often brittle, low elongation and easy to fracture.
Plastic pipe material problem two: fight impact poorer. According to GB/T5836.1-92 standard drop hammer impact test, many years of testing found that a pass rate is only less than 50%, many products even 10 times of impact, all rupture.
Plastic pipe problem three: softening temperature is low, easy to meet heat deformation. Performance on the test performance, vicat softening temperature is low (less than 79), some manufacturers in order to improve the softening temperature, increase the amount of filler in ingredients, simply do indeed can improve the softening temperature, but it is a pipe other properties, especially the impact resistance, tensile strength and toughness is greatly reduced, thus to improve the softening temperature, and does not reduce or other properties, It should be in the selection of additives, raw material ratio, production technology, and production machinery, not to be treated lightly.