WPC wall panel is shorten for wooden plastic composite wall panel.What is ? WPC=wood powder+plastic+additives composite.
WPC is a new construction and decoration material. Because the products contain wood powder and plastic, WPC products gather the advantages like natural wood grain surface treatment. The most important is that it eliminates the problem of termite erosion caused by solid wood. So let us check more benefits below.
Introduction of panel.
1.60% Wood powder.
2.30% HDPE
3.10% Chemical Addatives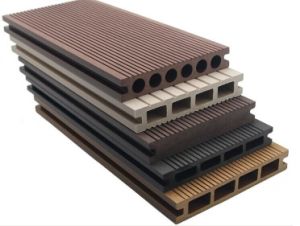 It has many colours and can be used in garden, lawn, balcony, corridor, garage, pool&SPA surrounds, boardwalk, playground etc.The features of panel are as followings:
1.With natural wood grain and looks like nature wood, less timber problems.
2.90% recycled materials, environmental friendly, saving forest resources.
3. Easy to install and low labor cost.
4. High degree of UV and color stability.
5. Cutting and drilling like timber.
6. Weather resistant, suitable from -40℃ to 60℃.
7.Resistant to termite and insect attack, will not split, rot or warp.
The width of the WPC wall panel: 1250mm-2050mm,2050mm in max.
The length of the pipe extrusion line panel: Any length.
Standard size for WPC panel: 915mm*1830mm ,1220*2440mm,1560*3050mm,2050*3050mm and also can make according to the customers' specific requirement.
1, We are factory,so we can provide more competive price and can make what you want as your request,we have more flexible plan for your needs
2, We have a very convenient transportation, our factory near by Shanghai,Nanjing and Hangzhou,If you want You can always visit our factory
3, We can provide high quality products,Our products have passed a series of testing,So you can be assured to buy our products
4,If you need,We can provide free samples,and After you buy our products we will provide comprehensive after-sales service, ready to solve your problem