WPC decking have many features:
Strength and durability: Stain-proof, mildew and mold proof, no cracking, no need for oiling or painting; Convenience: Easy to install and ultra easy to maintain; Appearance: Looks like real wood-even up close.Living space: Adds outdoor living space for the entire family to enjoy, and at a low cost.
Premium fabrication: Uses the finest in recycled materials to deliver the highest-quality product to homeowners and home owners. Environmentally-friendly: Fabricated from recycled wood and plastic, and it is 100% recyclabl, leaving no carbon footprint. Look great!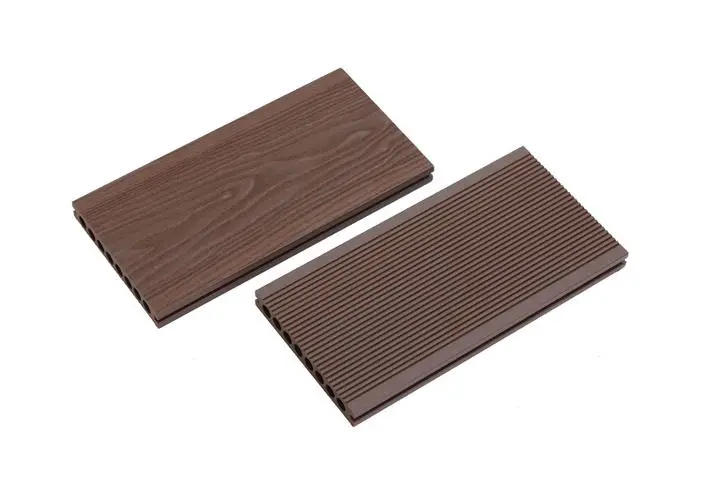 There are other sizes and shapes of wpc decking to choose from, such as solid, round holes, square holes. WPC decking including: Classic Composite Decking, Embossing/Online embossing compositedecking and Co-extrusion composite decking.
profiles extruder WPC machine manufacturers
The advantages
WPC floor is made of 60% wood powder,30% HDPE and10% additives, having the same processing features of timber. It can be sawed, drilled, nailed as timber. It is perfectly integrated the advantage of wood with the strong point of plastic, which makes it an excellent decorative material.
WPC material advantage:
a.Looks and feels like nature wood
b.Waterproof, Mildew-resistant
c.Anti-High degree of UV and color stability
d.No hazardous chemicals,100% recycle,Environmental friendly.
e.Weather resistant, Suitable from -40℃to 60℃
f.Easy to install and clean
g.Unaffected by termites and other insects, rodents, worms or marine parasites
h.Low maintenance
i.Anti-slip, less cracking, less warping
The wpc floor has the folling advantages:
1.High resistance to wearing.
WPC decking is made of composites whose hardness is several times higher in comparison with natural materials. They are recommended for frequently used properties, such as outdoor seating areas of hospitality facilities, marinas, docks, swimming pools and public spaces.
2.Resistant to outdoor factors
WPC flool is made of a composite which does not absorb moisture. Without changing characteristics within the temperature range from -30 to 85. Resistant to rotting and insect attacks.
3.Stable colour and UV protection
Wpc floor is made of a composite which contacins a high percentage of UV protectores. The change in colour intensity is unnoticeable even agter many years of exposure to sunrays.
4.No slipping
Anti-slippery pattern enables comfortable and safe walking when there is water on the profile surface. Wpc floor represents an ineal choice for platforms and paths around a swimming pool.