Wood plastic is a new emerging material in recent years, and there are many domestic wpc machine manufacturers doing products now. Shandong, Shaanxi, Zhejiang and other places have many of them, and they are doing well. Wood plastics are mainly concentrated in the Yangtze River Delta and pearl River Delta, where there are advantages such as easy export and concentration of raw materials.
WPC profile extruder production Line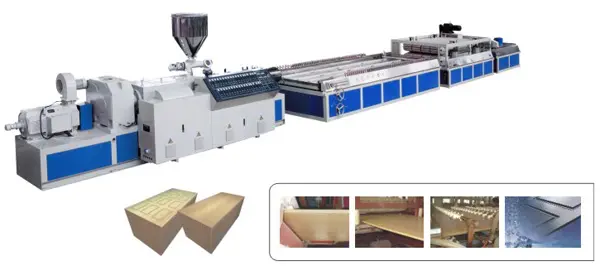 High speed output manufacturer price WPC extrusion machine
This WPC machine making by wpc machine manufacturers is used for making WPC profiles by Wood and Plastic composition, such as WPC decking, WPC wall cladding, WPC fencing, WPC pergola, WPC post, etc.The WPC profile adopts two-step production process.The first step is using WPC granulating machine to make WPC pellets from recycled PP/PE material,wood powder and chemical additives.The max wood percentage can be 70%.The the WPC profile extrusion line will make the WPC pellets into WPC profiles by equip customized mold.We can equip on-line embossing machine to achieve 3D wooden pattern.
The profile produced by this production line can be sanded and brushed by sanding machine and brushing machine.
The wpc machine manufacturers also make WPC granulation machine. After get ready wood powder and recycled PP/PE plastic, the first step is mixing them with chemicals, then use WPC granulation machine to make WPC granules
SHMS series granulating machine is used for making WPC pellets. The WPC pellets produced by WPC granulating machine can used for making WPC product using WPC machine.The granulating machine consists of parallel double-screw extruder,water cooling system, a granulator and air conveyor cooling system.The feeder and hopper are equipped with mixer to prevent the material blocked up.If customer do not have strict requirements about the appearance of pellets, the granulator can be removed.The pellets extrude by extruder directly, then go for crusher. Can improve the production capacity.
The manufactures make WPC profile extrusion line. The material for the line: recycled 30% PP/PE+70% wood powder+chemical additives.
Product: WPC decking, WPC wall cladding, WPC fence, WPC pergola. The WPC profile extrusion line can make WPC granules into WPC products by equipping required mold, we can equip co-extrusion system and online 3D embossing device for making WPC products in high quality with wooden grain, the line also equipped with online cutting device.
With advantages of high quality, stably production, good service and good price, Our WPC solid and hollow door frame machine has been good accepted by our customers. We have also developed our own technology for making new WPC door frame products.
Hereby we would like to introduce our WPC+ASA co-extrusion technology:
1, with ASA coating wooden grain layer, the WPC profile can be used outside even under sunshine, the ASA material is specially for color profile with good weather resistance.and with our this technology, we could make the outer ASA layer into wooden grain color which has better quality and low cost comparing with lamination.
2, we can make three sides or even four sides online embossing for the WPC profile, which can provide nature wooden skin feeling on the WPC profile surface.
WPC Hollow Door Panel Extrusion Machine1. The extrusion line is mainly used to produce wood plastic WPC door panel board.2. The output can up to 600kg to 1000kg every hour3. Product width 600-1250mm4. PVC wood-plastic plate collects the advantages of wood and plastic. It not only has appearance of natural wood, but also has the advantage of plastic. Good processing performance, can be sawed and nailed, can be finished with woodworker tools.Its fixed force is clearly stronger than normal wood material. It has physical characteristics,such as resistance to compression, resistance to impact. And its durable function is clearly better than normal wood.Wood-plastic material and its products can be resistance strong acid and alkali, water proof, corrosion resistance, germ can't breed on it. It is not moth-eaten. And it can be aging resistance, static electricity resistance.