Exhaust/vented screw extruder refers to an extruder with an exhaust port in the middle of the barrel so that the air and volatiles in the processed plastic can be removed.
The main machine of the plastic extruder is an extruder, which consists of an extruding system, a driving system and a heating and cooling system.The extrusion system consists of screw, barrel, hopper, head, and a die. The plastic is molded into a uniform melt through the extrusion system, and is continuously extruded out of the head by the screw under the pressure established in this process.The function of the drive system is to drive the screw and supply the torque and speed required by the screw in the extrusion process. It is usually composed of a motor, a reducer and bearings.Heating and cooling are the necessary conditions for plastic extrusion process to proceed.Auxiliary machines of plastic vented screw extruder mainly include line setting device, straightening device, preheating device, cooling device, traction device, meter meter, spark testing machine, line receiving device. The use of extruder is different, and the auxiliary equipment is not the same. Such as cutting device, blow dryer, printing device, etc.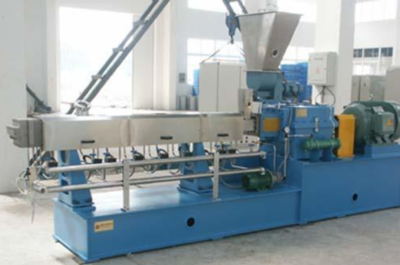 Functions of vented screw extruder
Vented single screw extruder is specialized in material processing that needs exhaust during the extrusion process, including:
Extrusion of PET/ABS/PA materials;
Recycling and processing of PET/ABS/PP/PE materials;
PE/PP/ABS and other materials dyeing and modification processing process.
Single-layer PP PS Sheet Plastic Extrusion Machine, Plastic Sheet Extrusion Line
1,The Sheet Extrusion unit is a combination of Extruder,three roll calender,haul-off unit,winder(including waste sheet winder) and electric control cabinet.
2,The main parts, such as screw, barrel, screen exchanger, T-die adopt superior alloy steel (38CrMoAIA) with high hardness, strong corrosions resistance and long operating life after nitrogen treatment.
3,The screw adopts big L/D Ratio,equal plasticization and high plasticizing capability.
4,Non-stop fast screen changer with double-sieve, controlled by hydraulic device, the operation is convenient and imporve the production efficiency,
5,The Calender, hual off unit and winder adopt integration design, fine appearance, convenient and fast installation and adjustment,
6,The machine frame adopts square steel,to make sure the machine works stably in high speed. The motor is connected with gear box directly,improve production efficiency and lower energy consumption.