Wood plastic composite machine(WPC manufacturing machine) is a kind of machinery specializing in the production of wood plastic products; Wood-plastic, as its name implies, is a composite product of wood flour and plastic. The wpc manufacturing machine is a mixture of wood flour, plastic and filler agent that is molded and extruded through a mold. So a simple set of wood plastic machine is not finished wood plastic product molding, in addition to the need for other auxiliary equipment including mixing machine, different product specifications of the mold, crusher, etc.; In order to reduce product profits can also be equipped with a set of grinding machine.
Why we need WPC manufacturing machine? We should know the features of wood-plastic products. First, wood-plastic products waterproof, moisture-proof, moth-proof, non-absorbent, not easy to deformation of the new environmental protection materials. Secondly, wood-plastic products can be recycled, can nail, according to, can bond, maintenance; Thirdly, wood plastic products themselves do not contain formaldehyde, benzene, is a healthy decoration materials, indoor and outdoor can be widely used. So the wpc manufacturing machine is widely used.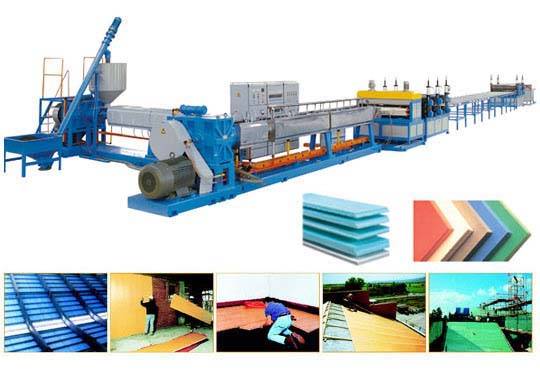 The wpc foam board machine need high efficiency conical twin screw extruder.
The wpc foam board machine can produce rigid wpc crust/skinning foam board machine.
The thickness is from 3mm to 45mm, width is from 800mm to 1220mm
The T-style mould head adopt the double throttling , it ensure the board thickness adjusting would be more accurate , the precise control of the temperature would ensure the thickness and the surface flatness
The forming pressure roller adopt horizontal style or vertical style, it can adjust to up or down freely . in order to control the
board thickness accurately , we design the double adjustment : screw adjustment & oil pressure adjustment , it will ensure the thickness even .
The wpc composite doors are widely used in the home, generally used in thermal insulation, moisturizing, dust-proof, insect-proof occasions.
The wpc door panel is flame retardant, acid and alkali resistant, anti-microbial, wear-resistant and has good warmth retention and elasticity. With features: light weight, waterproof and moisture-proof, moth-proof, easy installation and low price, and after adding flame retardant materials. It can be effectively extinguished after testing, and it is safer to use.