Description of Natural black ABS plastic board, ABS extrusion sheet, ABS plate Acrylnitrile Butadiene Styrene copolymer has a good thermal and dimensional stability and high impact strength (also at low temperature). It is strong, shows a good scratch resistance and has a good dimensional stability. ABS can be used in temperatures ranging from -58 °F to 158 °F.
ABS engineering plate is an ideal material for structural applications when impact resistance, strength, and stiffness are required. It is widely used for machining pre-production prototypes since it has excellent dimensional stability and is easy to paint and glue.
General purpose ABS is a rigid thermoplastic with a combination of properties that make it ideal for the widest range of applications: spacers, rollers, prototypes, structural components and electronic industry.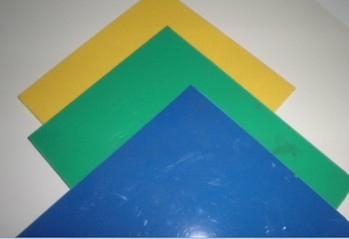 Let me talk about the ABS extrusion sheet
1.Material: Acrylonitrile Butadiene Styrene
2.Size: 610*1200mm, 1200*1200mm, 1200*2000mm, 1220*2440mm
3. Thickness: 0.5mm-110 mm
4.Color: beige, black, white, etc
5.Density: 1.1 g/cm³
6.Technical parameters: Flammability 1/16″ HB
7. Melting point: 170°C
8. Rockwell Hardness: 70
9. Tensile Strength: ≥70MPa
10. Applications:
1) Trays, panel, bases, cover, enclosure
2) Luggage, cases, containers
3) Machine parts and rollers
4) Theroformed displays
5) Prototype models
6) Home appliances
Here maybe some one don't know the ABS at all. Let me explain to you. ABS resin is one of the five synthetic resin, its impact resistance, heat resistance, low temperature resistance, chemical resistance and excellent electrical properties, but also has easy processing and products good size stability, surface gloss, easy painting, coloring, also can undertake surface spraying, electroplating, metal welding, hot pressing and adhesion and other secondary processing, Widely used in machinery, automobile, electronic appliances, instrumentation, textile and construction and other industrial fields, is a very wide range of thermoplastic engineering plastics. Acrylonitrile – butadiene – styrene copolymer is a terpolymer composed of acrylonitrile, butadiene and styrene. Acrylonitrile – Butadiene – Styrene Copolymer, ABS for short. ABS is usually light yellow or milky white granular non – crystalline resin. ABS is one of the most widely used engineering plastics. The ABS sheet extrusion is we use extrusion machine make the ABS to sheet.