The extrusion line can produce plastic tube, plate, sheet, film and some special-shaped material production line. Common types include: pipe extrusion production line, plastic board extrusion line, wood-plastic extrusion production line, complete set of composite pipe extrusion production line, granulation extrusion production line, etc. Extruder is the core of extrusion production line, common extruders are: parallel twin screw extruder, SJ series of new efficient single screw extruder, SJZ series of conical twin screw plastic extruder, planetary screw extruder and so on.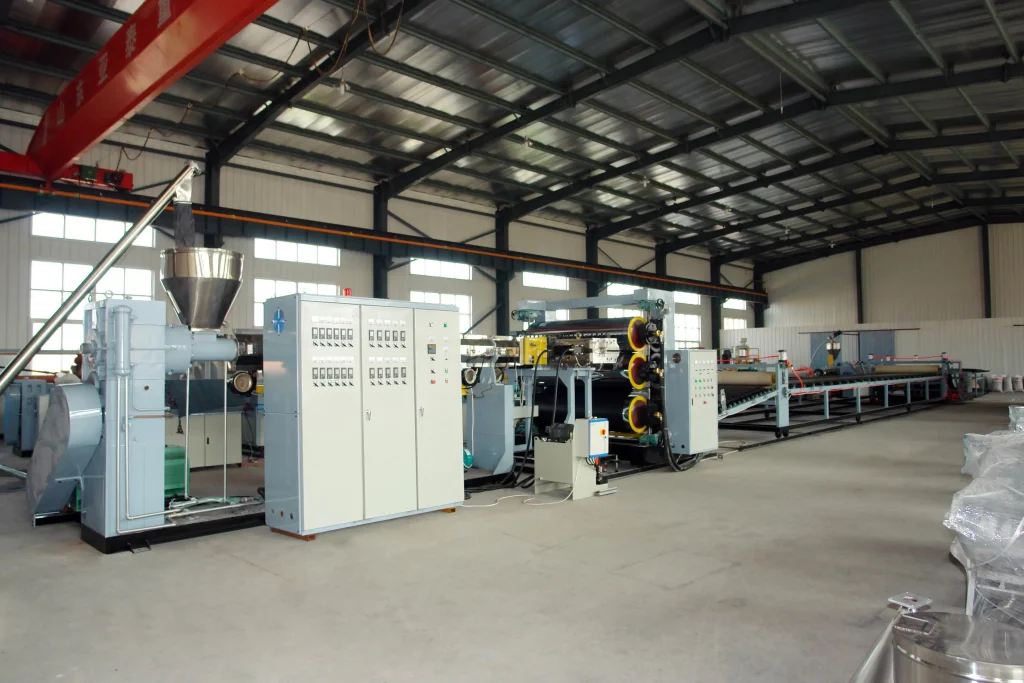 Plastic board extrusion line is a kind of plastic machinery. It include : sheet machine, sheet production line, sheet equipment, sheet extruder.
Product description

PP PE sheet plastic board extrusion line consists of single screw extruder,clothes rack type mould,three-roller calendar ,cooling haul rack,sheet shearing machine and other auxiliary machines.It can be used to produce all kinds of soft and hard PP PE board,PP PE sheet and transparent PP PE sheet.It is widely used in the following fields:PP PE wood plastic sheet , PP PE crust foaming sheet and PP PE foaming construction plate,etc.
This extrusion line is specially used to produce the PMMA sheet, which is as clear as glass and has high impact resistance. So it is also called plexi-glass and acrylic sheets. By changing the three rollers calendars, this line can also produce frosted sheets, embossed sheets and other sheets for different applications.
Board specifications:
Thickness: 0.8mm-10mm
Width range: 1000mm-1220mm-1560mm-2100mm
Length: Any dimension.
Color: Clear, blue, green, opal, brown, blue green etc.
Sheet structure: single layer or co-extrusion layers ABA type with UV coating on both sides.
The application of board making by plastic board extrusion line:
Architecture: Such as building wall board, decoration board, housing, office, public building interlayer, commercial decoration shelf, non-dust room board, ceiling plate, etc.
Advertisement: Such as screen printing, computer lettering, ad board, etc.
Industry: Cabinet board, chemical industry antisepticizing project, thermoforming for refrigerator, for temperature keeping for environment protection, etc.
Transportation: Such as steamship, aeroplane, carriage, train compartment, roof shed, case core layer, inner upholster, etc.
The plastic board including:
PP Board: Widely used in chemical industry, food industry, anticorrosive, purification industry, environmental protection equipment manufacturing industry, etc.
PE Board: Widely used in chemical industry, electric power and other industries. HDPE board can also be used as engineering plastics used in machinery, chemical equipment, etc.
ABS Board: Widely used in home appliances, electronics, packaging, medical equipment and other fields.
PS Board: Widely used in TV panel, Refrigerator panel and other high standard field.
PVC Board: Rigid pvc board is widely used in chemical industry, petrol, decoration board.
SPVC sheet: Widely used in indoor decoration, transparent sheet.