PVC blown film machine is a kind of machine that melts plastic particles and blows them into film.PVC blowing film unit adopts the rotary die head, frequency conversion speed regulation and automatic constant temperature control technology, the production of good plasticizing products, film thickness uniformity, transparency, flatness, shrinkage and other quality indicators to reach the technical standards of printing grade film. The unit is compact and easy to operate. It is mainly composed of extruder, rotary die head, cooling air ring, first traction, hot water tank and setting sleeve, second traction (electric lifting), double station coiling machine, extruder electromechanical control cabinet and auxiliary electric control cabinet.
Characteristics of the pvc blown film machine.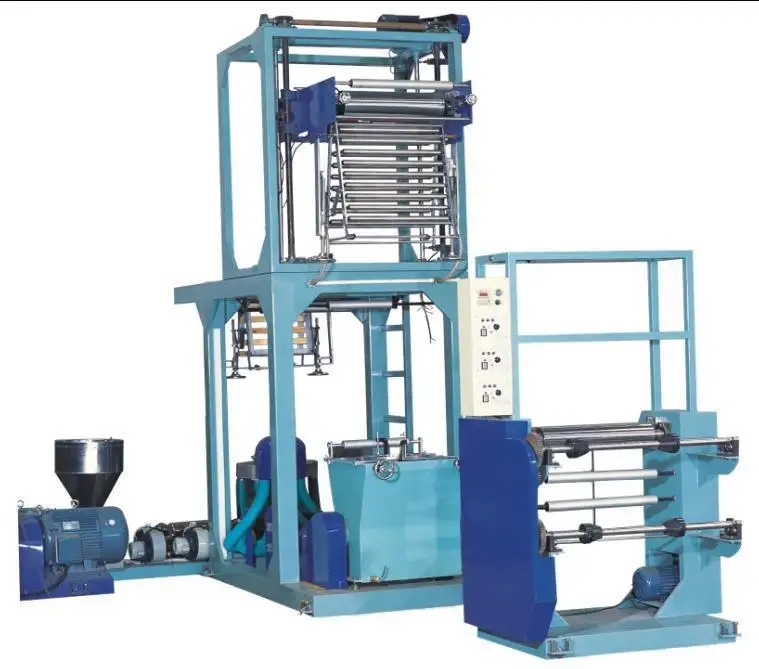 It is used for blowing highlow pressure polyethylene, which has been widely used for producing laminating film, packing film, agricultural covering film, bag or film for textile and clothing and other packing material. The main motor adopts frequency control of motor speed to improve the speed regulating stability of main motor and save electricity by 30%. The screw and material barrel adopt 38 chrome-molybdenum aluminum which has been nitrogen treated and the traction frame adopts lifting type. No matter what size the film is, big or small, it can achieve the best effect of cooling.

Usage and features

This pvc blown film machine is suitable for blowing film of various specifications by tube film process of PVC plastic resin. The film has the advantages of good transparency, good gloss and high shrinkage. It is a new popular packaging material nowadays. It is widely used in food, beverage, tea, glass products, handicraft, sanitary ware and cosmetics. Outerwear of products, electronic products, etc.

1. The unit is mainly composed of plastic extruder, air ring, nose device, traction device, cooling device, heating expansion device, winding device, heating system and electronic control device.
2. The key parts of screw and barrel are made of 38GrMoAIA high-quality alloy steel, which has high hardness, wear resistance and corrosion resistance after finishing and ammoniation treatment.
3. The new screw with a length of 1:26 is suitable for mixing and plasticizing polyvinyl chloride (PVC) plastics with high melt viscosity and poor thermal stability.
4. The automatic temperature control system is equipped to control the heaters and cooling fans of the fuselage so as to keep the temperature constant, accurate and in line with the technological requirements of film production and ensure the excellent quality of the heat recovery film.
5. The special structure of die head and air ring is favorable for plasticizing and cooling requirements.
6. Easy to operate, compact structure, centralized control and high degree of automation.