In the plastic extrusion, film and sheet extrusion are the most common of all kinds of extrusion. A film and sheet extrusion is a machine that melts plastic particles and then blows them into a film. There are many kinds of film blowing machine, PE,POF,PVC and so on. With the new particles blown out of the new material, color is equal, clean, the bag stretched well.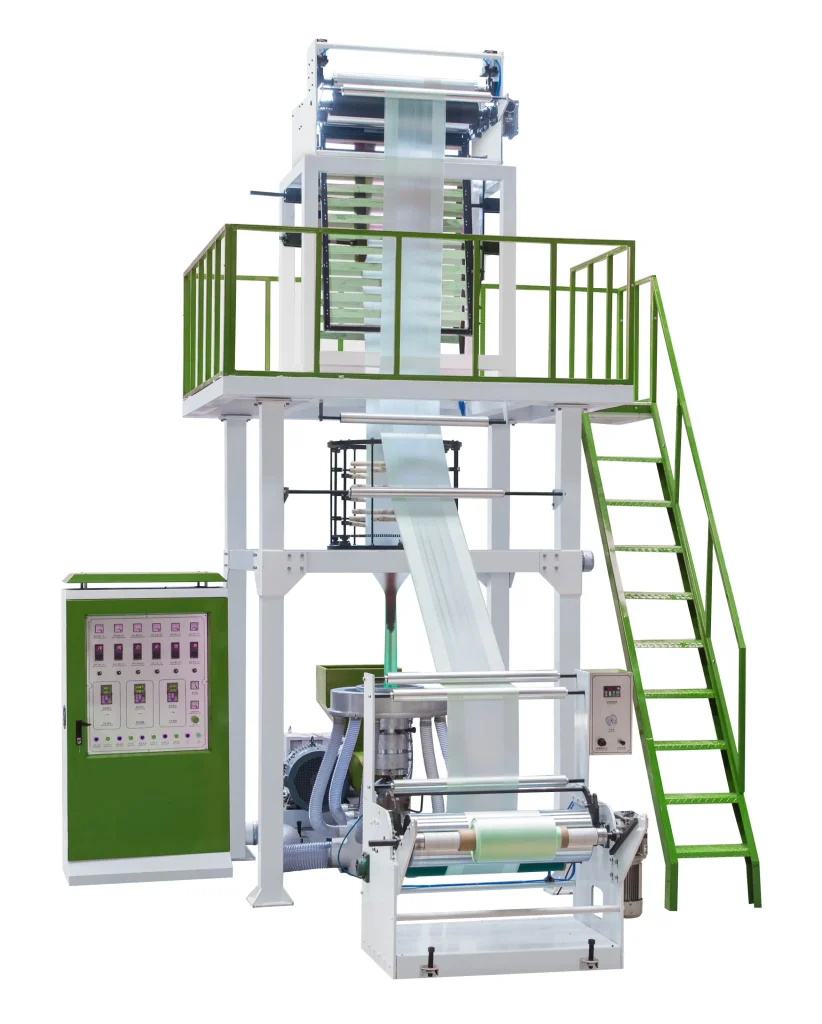 In order to meet the needs of some special functions of plastic film packaging materials in the production process, a multi-layer co-extrusion film blowing machine was developed by blowing and co-extruding various materials (such as breathable, waterproof, heat preservation, toughness, etc.) together to form a multi-functional plastic film. The purpose of multi-layer co-extrusion film blowing machine is to play the advantages of a variety of materials, to avoid the shortcomings of a single material or single-layer film blowing machine.For example, PP, PE co-extrusion blowing machine, it is the use of PP material hardness and PE material high brightness characteristics of the combination of the production of two characteristics of the combination of film.
The performance of the film and sheet extrusion machine is as following:
1.The The screw adopts the most advanced alloy spraying technology, after precision processing, higher hardness, better corrosion resistance, long life, is nitriding screw life 2~3 times;
⒉ Screw length-diameter ratio, strong plasticizing ability, uniform temperature distribution, automatic temperature control, blowing thin film bright uniform products with good performance;
3. The whole machine is compact in structure, stable in operation, single arm structure, economical and practical, integrated traction device and adjustable lifting;
4. It adopts advanced frequency conversion technology, high efficiency and energy saving.
5. Various forms of crimping can be chosen arbitrarily;
Application of film and sheet extrusion
1. Use for bag: blanketry bag, cosmetic bag, tool bag etc.
2. Use for printing as colorful talble cloths.
3. Use for package,such as textile,garment,stationery,inflatable toys,umbrellas,raincoat,covering,tablecloth,etc.
4. Widely used for the external packing of different kinds of products because of the good transparent;
5. It can be processed into trays of different shapes by vacuum thermal forming;
6. It can be formed into different kinds od shaped by moulds, which can be made into covers for clothes packing;
7. It can be cut into small pieces and used for packing of shirts or rafts;
8. It can be used for Printing, Box windows, Stationery and so on.
Laminating film is made from PET film as substrate , evenly coated with EVA and specially treated to form premium sheet packaging material.It is mainly used for the storage and protection of various pieces of materials, such as photo portrait, graffiti drawing, certifications,study cards, photographic works, sketch paintings, advertising documents,, pictures, permits, business licenses,securities, passes, , menus and so on.The advantage of Laminating film is: moistureproof, dustproof, fade-proof, facilitate long-term preservation. it will be well reserved against worm corrosion with high transparency.