The equipment required for pelletizing is called extrusion pelletizing machine. It is composed of extruder, pelletizer head, pelletizer, etc. Its composition is described below:
1. Extruder
According to the different production processes of pellets, different structures and characteristics of extruders can be selected.
① Melt feeding type extruder.
② Single-screw extruder.
③ Twin-screw extruder.
2. Pelletizing head
In order to facilitate the extrusion molding process, resin powder and various additives are mixed together and then extruded by kneading to make a certain shape of pellets, a process that is usually called pelletizing processing. According to the structure of the pelletizing head, it can be divided into the following categories.
① Pelletizing head with automatic compression device.
② Conical runner pelletizing head.
③ Round pelletizer head.
④ mandrel type pelletizing head.
According to the pressure size in the head can be divided into: low pressure head (its material flow pressure is less than 4MPa), medium pressure head (its material flow pressure is between 4~40MPa) and high pressure head (its material flow pressure is more than 10MPa).
3. Pelletizer
According to the corresponding cooling method of pellets, the cutting device and the head are different, and the pelletizing process and output are also different.
① Pulling strip cutting pellets. This is the simplest extrusion pelletizing, low yield pelletizing method, suitable for experiments. The process flow includes: extruder – filter plate and screen – strip puller head – cooling – rotary knife pelletizing – cylindrical pellet material.
② Die surface pelletizing.
Xinchen Machinery provides professional extruders for compounding and pelletizing of plastic materials. The machine adopts large size conical twin-screw barrel extruder. The conical twin-screw models are 65/132, 80/156, 92/188, 110/200. Large size host machine, more environmental protection and energy saving.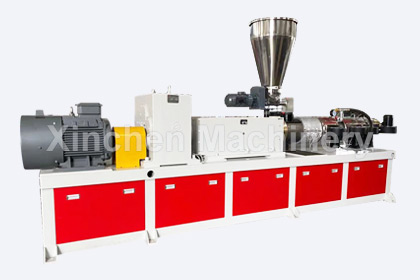 The self-developed conical twin-screw design for PVC, PE, PP and other raw materials. Excellent mixing ability helps to obtain ideal filler masterbatch particles. For the next step to continue processing.
Xinchen Machinery's special material compound extrusion pelletizing machine is equipped with a thermal cutting die to produce high quality pellets efficiently.
This machine is also suitable for recycling pellet production. For more information about Xinchen Machinery's plastic compound extrusion pelletizing machine, please contact us for inquiry.