WPC extrusion process adopts celuka structural foaming process technology to produce PVC board, WPC board, sheet,panel etc. This kidng of PVC WPC foam board machine has such characteristics as high quality, high efficiency, sound separation sound absorption. Proper double screw extruder, specially used for extruding wood plastic products. It should be chosen in accordance with the panel section, application, and product specific gravity. Also the corresponding auxiliary machines such as vacuum calibrating platform, hauling off machine, cutting off machine, material reversing platform,etc. Products of diversified specification can be produced with different dies.
Wood Plastic WPC Extrusion Process/line is used to produce WPC decking board flooring, WPC fence panel and so on. The production line is fully mixed with raw materials such as PVC, PP, PE and other plastics and plant fibers. It adopts high-efficiency conical twin-screw extrusion and forced cooling system for extrusion molding.
The main products made by wpc extrusion process line including:
PVC ceiling wall panel production line. WPC profile extrusion line. WPC wall panel making machine. PVC door window making machine. PVC marble sheet extrusion machine. SPC flooring extrusion line. PVC edge band making machine. PVC foam board extrusion line. Plastic recycling machine line. other plastic auxiliary machine.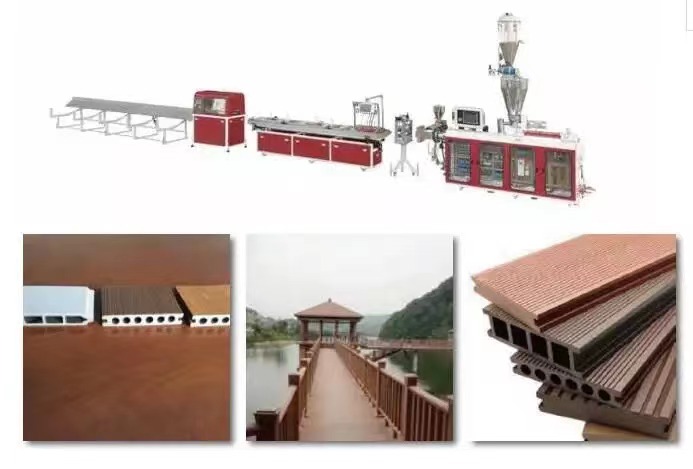 Advantage and application
WPC extrusion molding technology, wood processing and forest logging residues, crop straw and other wood fiber and waste plastic or synthetic resin as the main raw materials. It through continuous extrusion molding to manufacture a variety of high-performance boards and special-shaped materials.
Wood-plastic Composites (WPC) is a new type of composite material emerging in recent years at home and abroad. It refers to the use of polyethylene, polypropylene and polyvinyl chloride, instead of the usual resin adhesive. And more than 50% of Wood flour, rice husk, straw and other waste plant fibers mixed into a new Wood material.
After extrusion, molding, injection molding and other plastic processing technology. the production of the plate or profile. Mainly used in building materials, furniture, logistics packaging and other industries. The plastic and wood powder according to a certain proportion of the mix after hot extrusion molding plate, called extrusion wood plastic composite plate.
1.the excellent appearance of the natural wood,
2.With the advantages of anti-corrosion, moisture-proof, anti-moth-eaten, no cracking, etc. It is much harder than the pure plastic products and has the similar process-ability as the wood.
3.It can be cut, paint, bonded and fixed with nails or bolts.
4.The woodplastic foamed board is mainly used in wall panel, decorating plate, construction formwork, kitchen cabinet, cloth cabinet, bath room cabinet, fence, stair handrail, etc.
Complete process
Raw material +wood power+ additive → mixing → granulating → conical twin-screw extruder → profile extrusion mould → cool molding die → vacuum cooling calibration table → belt haul-off → cutter → rack → finished product →Recycling of unqualified products were broken.
Relative information:PVC WPC profile extrusion line