Wood plastic composite material, WPC is booming in recent years as a new type of composite material. WPC use polyethylene, polypropylene and PVC etc, instead of the usual resin adhesive, mix with more than 35% to 70% of wood powder, rice husk, straw waste plant fiber blend into wooden material, then through extrusion, mould pressing, injection moulding processing put out to board and profile. It mainly used in building materials, furniture, logistics packaging industries.
Wood-plastic composites contain plastics thus have good elastic modulus. In addition, as WPC contains fiber and classics to mix adequately with plastic, it has the physical mechanical property such as resistance to pressure, resistance to bending comparing to hard wood. And its durability is better than average woodiness material apparently. The surface hardness is high, generally 2-5 times than wood.There are huge demand of WPC profile making machine in China.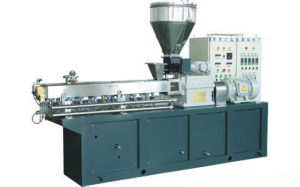 Charactors of WPC profiles making machine.
By co-extrusion, the WPC profiles extrusion making machines can make high quality wpc products with anti-UV surface and wood color. by online embossing, the line can produce 3D deep embossing design which looks more like wood grain.
1. Produces the profile production line structure unique, high degree of automation, convenient operation, continuous production, stable and reliable.
2. Production process: raw materials to special extrusion machine, profile mould – vacuum calibrating bench – tractor – online cutting machine – finished goods piled up
3. WPC profiles making mahcine main features:
•according to different raw materials professional design of screw extruder, high yield, high efficiency, with omron temperature control table, frequency control of motor speed, and other advanced technology, to reach the domestic advanced level.
•Auxiliary vacuum pump and drawing motor electric appliance adopts the high quality product, easy to maintain.plastic sheet extrusion machine
•Change different mould, can produce a variety of more don't products, using a wide range.