PVC extruders are divided into two kinds of hard and soft RPVC pipe, is PVC resin and stabilizer, lubricant and other additives mixed by granulation after extruder molding, can also use powder once extrusion molding. RPVC pipe chemical corrosion resistance and good insulation is mainly used for conveying all kinds of fluids and wire sleeve. RPVC pipe is easy to cut, weld, bond, heat and bend, so it is very easy to install and use. SPVC tube is made of PVC resin with a large amount of plasticizer and a certain amount of stabilizer and other additives after extrusion molding by granulation. SPVC pipe has excellent chemical stability excellent electrical insulation and good flexibility and coloring this kind of pipe is commonly used to replace rubber pipe to transport liquid and corrosive medium is also used as cable sleeve and wire insulation pipe, etc.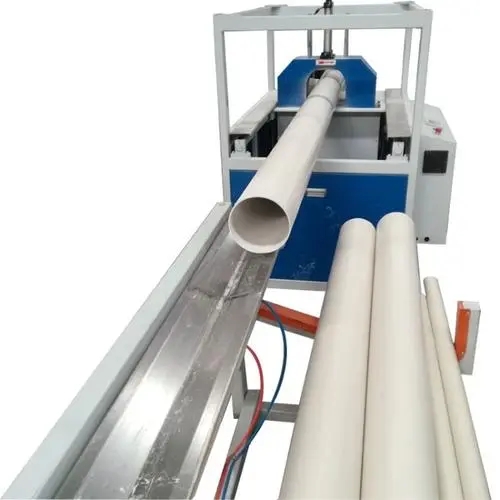 PVC extruders double screw extrusion making machine
Machine name: Plastic PVC Ceiling Panel Making machine, Plastic PVC Wall Board Making Machine
Finshed product : Plastic ceiling , PVC composite ceiling , Plastic wall panel , Plastic profile
Product features:
The plastic ceiling panel production line can produce various kinds of decorative ceiling panel , wall panel and profiles, which are widely used for decorating and protecting the external surface of houses, office buildings, top class villas. It can be laminated with PVC, ASA, PMMA material etc. on the surface. It can be used in hot or cold, dry or wet area, which can bear long period irradiation of ultraviolet radiation and bad weather such as gale and rainstorm, long life and easily to operate. And it also has the advantages of good fireproofing, high capacity, easy installation, low price and long using life.
The PVC roofing profile production line uses PVC or UPVC as raw material to produce various kinds of profiles for roof and decoration profiles.
PVC extruders making plastic pipe is mainly used in the production of Agricultural water supply & water discharge system, architectural water supply & discharge system, wire laying system, etc. purposes. >>The unit consists of Conical (Parallel) double screw extruder-PVC pipe mold-Vacuum forming tank-Haul-off machine-Cutting machine-Stacker/Belling machine. >>And the line can be equipped with Comptroller thickening instrument or computer ink-jet printer, etc. to achieve the production and manufacture of high-grade tubing.
Process Flow: Screw Loader for Mixer→ Mixer unit→ Screw Loader for Extruder→ Conical Twin Screw Extruder → Mould → Vacuum Calibration Tank → Four claws Haul-off → Planetary Saw Cutter → Belling machine/ Tripping Table → Final Product Inspecting &Packing.