WPC panel for wall works well both for commercial and residential spaces. coated wear layer makes it resistant to scratches and stains under daily wear. With a unique click system and edge design, connected seamlessly and tightly without glue.The flooring installation can be never faster and easier.It is 100% waterproof that won't warp or twist.So WPC panel is the most popular material for modern interior decoration and ideal choice for commercial environment.
Wood plastic board is a kind of is mainly composed of wood, wood fiber, plant fiber) on the basis of material and thermoplastic polymer material (plastic) and processing AIDS, etc., after mixing heating extrusion mold equipment, made of a high-tech new type of green environmental protection decoration material, performance and characteristics of both wood and plastic, is a new kind of composite material substitute for wood and plastic.
WPC wall Panel has modern and simple wood textile , excellent 4 groove design with strong appearance, can substitute solid wood for decoration at offices, home, hotels etc.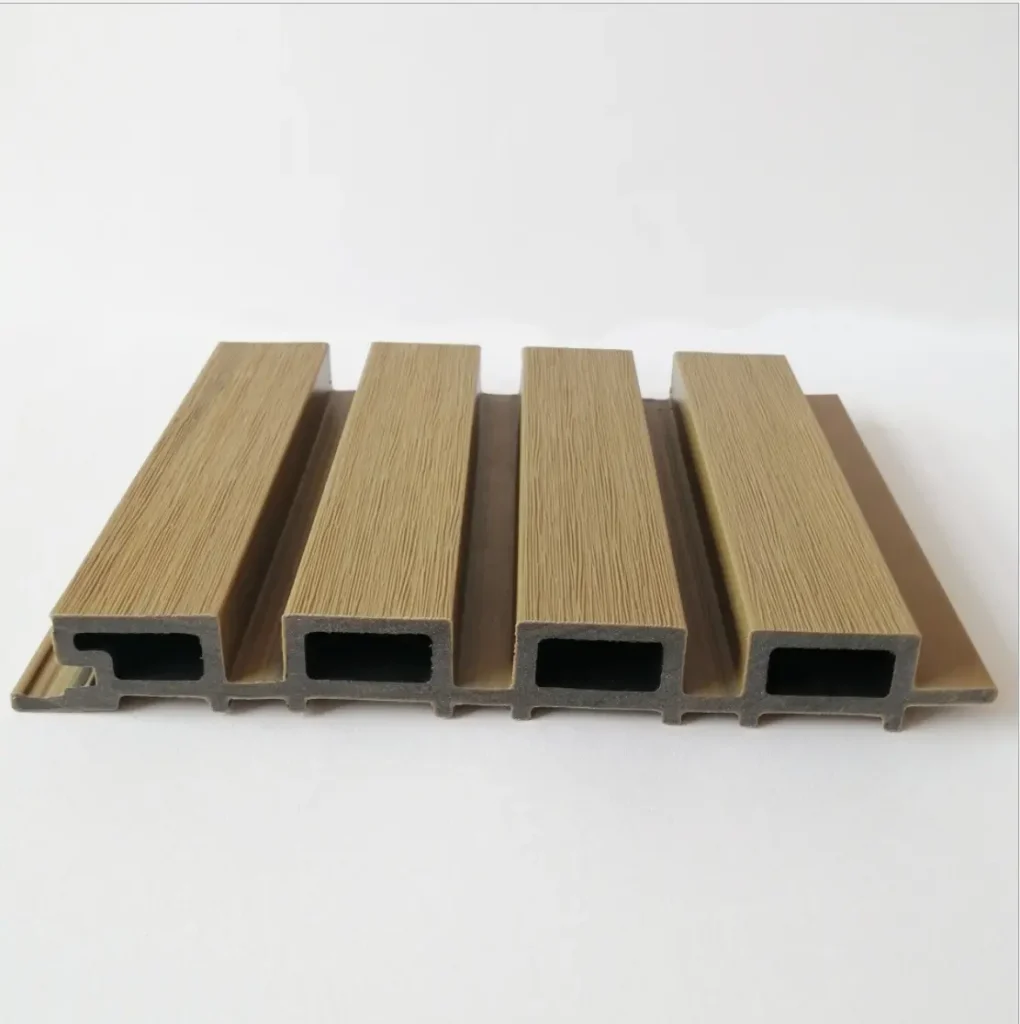 | | |
| --- | --- |
| Application | Outdoor wall panel, Exterior |
| | 1) Dimensional stability, longevity, natural feel |
| | 2) Resistance to rot and crack |
| | 3) Stable over a wide temperature range, weather-resistant |
| | 4) Moisture resistant, low flame spread |
| | 5) High impact resistant |
| Features | 6) Outstanding screw and nail retention |
| | 7) Environmentally friendly, recyclable |
| | 8) Broad range of finished and appearance |
| | 9) Easily produced and easily fabricated |
| | 10) Contains no toxic chemicals or preservatives |
WPC panel advantages
1. Natural wood looking and feeling
2. 100% recyclable and eco-friendly
3. UV resistant and color stability
4. Weather resistant, suitable from -40°C to 60°C
5. Water-proof and erosion-proof
6. No insect and moldy-proof
7. No cracking, warping and splitting
8. No painting, low maintenance , easy install and clean
9. High density, durable and firm for long lifetime