Film extrusion machines melts plastic particles and then blows them into a film. There are many kinds of film blowing machine, PE,POF,PVC and so on. With the new particles blown out of the new material, color is equal, clean, the bag stretched well.
Usage of the film extrusion machines
It is used to blowing low density polyethylene (LDPE), high density polyethylene (HDPE) and linear low density polyethylene (LLDPE) and other plastic films. It is widely used in liquid packaging, printing compound, clothing textile packaging, industrial packaging, etc. film and sheet extrusion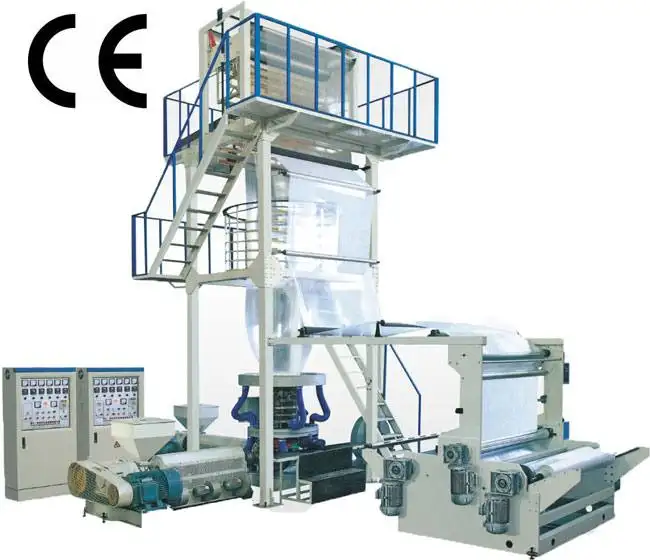 This film extrusion machines set is to satisfy the customer's requirements of high quality, high out put film blowing equipment. It adopts the extruder with force feeding function, precision type ceramic heater, precision type double vents air ring, horizontal type rotary traction system, IBC inner cooling system, fully automatic surface friction type double cut double winders, computer concentrate control system, advanced technique and equipments. Compare with kindred equipment, it has the advantages such as more compact structure, higher output, better produce quality, less energy consume, easier operation. It can be widely used into various kind of high transparence packing film manufacture, and create the considerable economic benefit for you.
Three layers co-extrusion
The three-layer co-extrusion and blowing thin production line adopts advanced technologies such as new high-efficiency and low-energy extruder, IBC membrane bubble internal cooling system, ±360° horizontal upper traction rotation system, photoelectric automatic deviation correction device, automatic winding and film tension control, computer screen automatic control system, etc. Compared with similar equipment, it has the advantages of higher output, good plasticizing, low energy consumption and simple operation. It completely solves the problems of film flounces and winding size and makes the product quality on a new level. The film produced has the characteristics of high transparency, puncture resistance, high toughness, good low temperature heat resistance, good compound fastness and anti-crimp. This film can be widely used in light and heavy packaging because of its good barrier, preservation, moisture, frost, oxygen, oil resistance. Such as all kinds of fresh fruit, meat food, pickles, fresh milk, liquid drinks, medical supplies and so on.
Characteristic of the film extrusion machines

1,Double-layer co-extrusion laminated film can prolong the length for preservation of liquid package
2,The cylinder and the screw stem of the extruder are made of high quality alloy steel with optimum hardness and durable service after precision finishing and nitrogen treatment.
3,The auxiliary machine has a platform working table for making operation easy and is equipped with bubble stabilizing ring.
4,Double-rolling and double-cutting coiling unit adopts torque motor to keep proper tensions and make rolling even and roll changing
The parameters for the film blowing machines:
Equipment usage environment
Power supply: AC380v±10%, 50Hz±2%, three-phase or customized.
Ambient temperature: -10ºC-+42ºC
Relative humidity: 40%~90%
Compressed air: working pressure is 0.4 ~ 0.6MPa