Davenport™ Polymer Extrusion Testing Products
Davenport polymer test instruments are used in the polymer processing industry typically in blow moulding, film blowing, thermoforming, Extrusion Testing and injection moulding. They include:
PET intrinsic viscosity (IV) measurement instruments
Density Gradient Column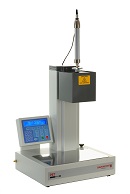 Improvements in the Characterization of Plastics and Composites
Compounding companies are continually seeking competitive advantage, as well as opportunities for cost reduction. One method of gaining competitive advantage is to offer superior quality. Maintaining a high degree of batch-to-batch quality enables compounders to effectively differentiate their products and translates into demand for tests that support more stringent quality standards.