Extrusion PVC Pipe/Extrusion PVC Pipe line / PVC Pipe Machine / PVC Pipe Making Machine
One cavity PVC Production Line
Two cavities PVC Production Line
Four cavities PVC Production Line
Auxiliary Machines: Plastic Crusher / Plastic Mixer Machine / Pulverizer / Water Chiller
PVC one cavity production line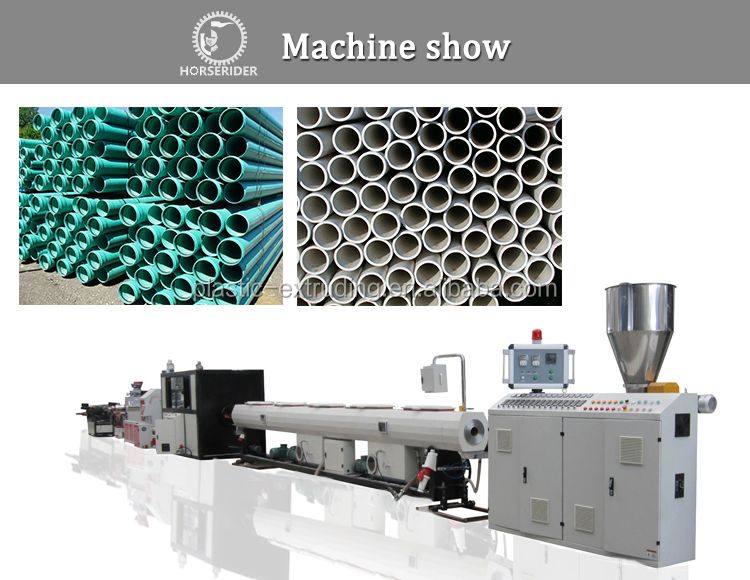 Φ20-Φ630 series PVC pipe extrusion machine line is mainly used in the manufacture of plastic PVC pipes with various diameters and wall thickness used in the industries such as agricultural and constructional plumbing,cable laying etc. This line is composed of conical twin screw extruder,Vacuum calibration tank,haul off,motors,cutter and stacker etc. The extruder and haul off methods are two-claw,three-claw four-claw,six-claw,eight-claw,ten-claw,twelve claw etc. You may choose saw blade cutting type or planetary cutting type. It is aditionaly attached with length counter and intensifying device.
PVC double-pipe production line
The production line is developed with the advanced technology of west Europe by our company. The main machine is SJSZ55/120 or SJSZ65/132 conical twin screw extruder is equipped with double-tube single control stainless steel spraying calibration,it avoids waste condition when one tube is adjusted and the other one is affected. The auto single-control double drawing machine and cuting machine are combined with the front double calibration technology to make operation more flexible let you enjoy economic benefit which is brought by separate-control double tube extruding.
PVC four cavity production line
Four cavity PVC electrical tube,water supply pipeextrusion line can extruder four pipes at same time on one machine.This line can save investment cost in factory buiding and production,which increase the capacity a lot and reduce production time. The production speed take 16mm as example can get more than 8-10m/min.The whole line is composed of conical twin-screw extruder 65mm,4 cavity mould,4 cavity coling calibration tank,4 station haul off,4 station cutter and 4 station tipping table.
China PVC pipe extrusion line/PVC pipe extrusion machine/PVC pipe production machine
The advantages of SJSZ series PVC pipe extrusion line :
1)forced extruding, high quality, wide suitable range, long working life, small sharing speed,
2)not easy to decompose of material, good plasticized character, and straight shaping of powder material and etc.
3)This extruder is equipped with AC motor, auto temperature controller,
4)Vacuum exhausting device and other devices.
5)This line is suitable for pipe, plate, profile production and etc.
6)It is easier to operate and aslo a facility line for our customers to choose. Because the maintenance of the line is easier than any other lines.
We can make PVC pipe with diameter even up to 800mm!
I will send you detailed offer, video if you required.
pvc pipe making machine Extrusion PVC Pipe