Extrusion machinery is one of the types of plastic machinery, which originated in the 18th century.
According to the direction of the flow and the Angle of the center line of the screw, the extruder can divide the head into right Angle head and bevel head.
Screw extrusion machinery is to rely on the pressure and shear force generated by screw rotation, can make the material can be fully plasticized and evenly mixed, through the die forming. Plastic extruders can be basically classified as twin screw extruder, single screw extruder and rare multi-screw extruder and non-screw extruder.
Here i introduce the wpc profiles Foam Board sheet extrusion machinery
 PVC WPC crust foam board has such characteristics as sound separation, sound absorption, heat separation, temperature-keeping,etc.
The material is incombustible, it is safe for use.
All series of products have property of moisture proof, mildew proof, water resistance; its vibration resistant effect is good.
All series of products have property of weathering proof, its luster may remain forever, and it is not easy to be ageing.
This product is light, storage & transport, construction are rather convenient.
This product can be worked with normal tools for wooden material.
Drilling, sawing, nail, planning, bonding can be conducted like wooden material.
It is suitable for thermal shaping, thermal bending and fold processing.
It can be welded; it can also be bonded with other pvc material.
The surface of this product is smooth, it can be printed. (Clean the surface before printing.)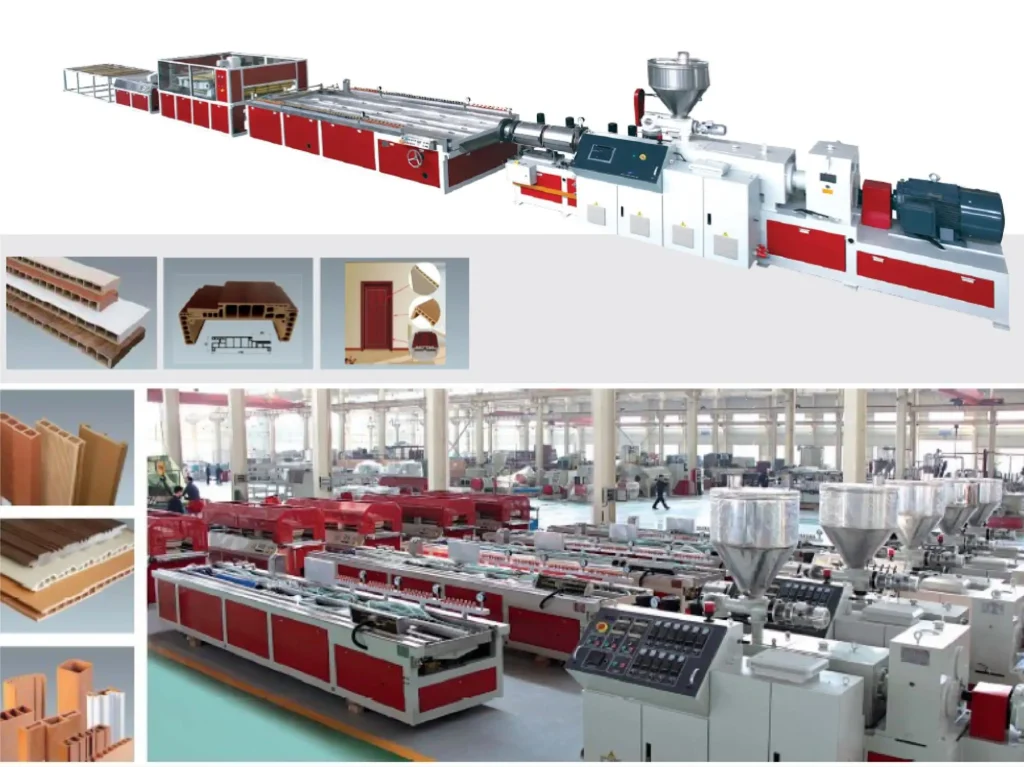 Product parameters for film Extrusion machinery
1. Main motor: Siemens BEIDE,
Inverter: ABB
Control system: Siemens or Mitsubishi PLC control.
2. Equipped with crane for PVC film lifting.
3. The roller gap adjusting is controlled by the PLC touch screen, the precision is 0.01mm.
4. Film unreeling device quipped with auto tension controller, automatic deviation rectifier, and synchronous film delivery device that helps to control the good quality of film laminating.
5. The cooling bracket is 10 meters long and with 2 sets of up and down air cooling.
6. There is an infrared ray safety device on the 5-roller, hauling machine, and cutting machine to protect workers' safety.