WPC panels for walls has modern and simple wood textile , excellent 4 groove design with strong appearance, can substitute solid wood for decoration at offices, home, hotels etc.
The advantages of wpc panels for walls.
1. Totally environmentally friendly, 100% recyclable.
2. Waterproof, moisture-proof, mothproof and anti-mildew.
3. High strength, low wear and tear, non-swelling, no deformation and not broken.
4. Shorten construction period and enhance labor efficiency due to it is the profiles with standardsize that it only
need some cropping and necessary appendix to finish the installation,need no further processing.
5. Long service lifetime about 25years but it needs no special maintenance, which will  save lots of unnecessary maintenance costs. 
Brief introduction to WPC:
WPC is a new kind of building material, use wood (wood cellulose, plant cellulose) as the base material, thermoplastic polymer materials (plastics, PVC) and processing aids, etc., well mixed ,and then heat by the mold equipment and extrusion molding.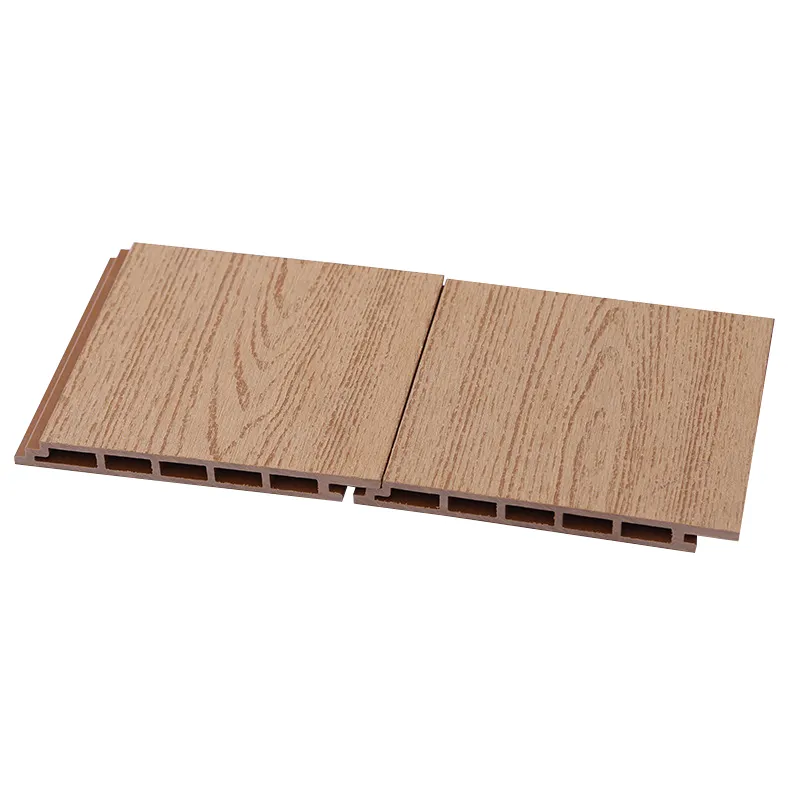 Description of wpc panels for wall
1. The Thickness and Width:
9mmx300mm,9mmx450mm,9mmx600mm
2. Length specifiation:
3m or according to customer requirement
3. Functions:
Fireproof,Waterproof,Moistureproof,Sound insulation,Heat insulation,
Super hardness,Environmental,Fast and Convenience installation,Easy to clen,
Non-Deformation,Fashion space,Save space ect.
4. Appliction:
Indoor decorate, Shop, Schools, Hospitals, Kitchen , Washing room ,
Hotel , Commercial building, Household decorate ect.
5.Product Features:
1. Materials of the wall panels for walls are environmental protection material, which does not contain oil paint. No radiation, no formaldehyde, green environmental protection. .
2.Warm preservation, sound insulation, heat resistant, fire proof
3.Water proof, moisture proof, long service life
4.Easy installing: It was designed with no dificult installing way like aluminum buckle, using traditional installing way of panel, no need professional worker, ordinary carpenter can installing, can install it directly on the rough house, save work, save time, save space.
5.Varied styles, suitable all kinds of places.
6.Easy Washing, removable and easy maintenance.
7.Ideal for used in office, hotel, restaurant, villa,bathroom, balcony and so on.