Conical twin screw extruder is a kind of high efficiency mixing and extruding equipment. The machine has the characteristics of low shear rate, material is not easy to decompose, plasticizing and mixing evenly, stable quality, high output, wide application range, long service life and so on.
Function and usage of conical twin screw extruder
Conical twin screw extruder has the characteristics of uniform plasticizing mixing, high output, stable quality, wide range of application, long service life, direct molding of PVC powder and so on.
With the corresponding molding head mold and auxiliary machine, various thermoplastics, especially hard POLYvinyl chloride powder, can be directly extruded into tubes, plates, sheets, rods, films, profiles and other plastic products, and can also complete the modification of various plastics and granulated powder [1].
The conical twin screw extruder has stable performance, which can plasticize the melt at lower temperature. The casting aluminum heater is installed on the barrel, which has high thermal efficiency, fast and uniform temperature rise, and equipped with cooling fan.
The specially designed transmission part is driven by new type frequency conversion motor or direct flow motor, which ensures smooth operation, large transmission torque and high efficiency.
Through imported inverter or DC governor can achieve stepless steady speed regulation, high precision, energy saving. Intelligent double display digital temperature controller, high control precision, small temperature fluctuation. Equipped with overload protection and fault alarm, screw core oil cycle constant temperature, barrel oil cooling and other functions, and equipped with vacuum exhaust pipe device and quantitative feeding device.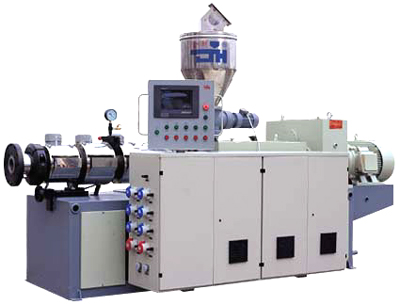 Conical Twin Screw Exturder
1.Super large output can up to 280KGS/Hr for window profile extrusioin and 300KGS/Hr for wide door panel extrusion.
2.Smart design for operation with Simens Smart PLC control system.
3.Duplex metal treatment for screw and barrel prolonged the machine life.4.New design gear box with high efficiency driving system improved extruder's output.
Calibration Table1.Length extendable.Window profile can up tp 18m in high speed extrusion. Line speed can up tp 10m/min2.Smart operating method with two control options:one is smart touch screen, another is hung-up type.3.stainless steel frame,plastic spray on door surface treatment to protect calibration table.4.User-friendly design on PRO. LINE's every details.
Hual Off Device1.Electrical components was adopted famous brand making the device running stably and efficiency.2. the length and width can be customized.
Cutting Device1.Professional hot cutter makes cutting process no noisy and dust free.2.Double Control Length system guaranteed the cutting accuracy.