PVC is mainly composed of polyvinyl chloride, which is slightly yellow and translucent and shiny. Transparency is better than polyethylene, polypropylene, worse than polystyrene, with different dosage of additives, divided into soft and hard PVC, soft products soft and tough, feel sticky, hard products hardness is higher than low density polyethylene, and lower than polypropylene, in the flexion will appear whitening phenomenon. Common products: plate, pipe, sole, toys, doors and Windows, wire cover, stationery, etc. It's a polymer material that uses a chlorine atom to replace a hydrogen atom in polyethylene. PVC transparent film market have a good prospects.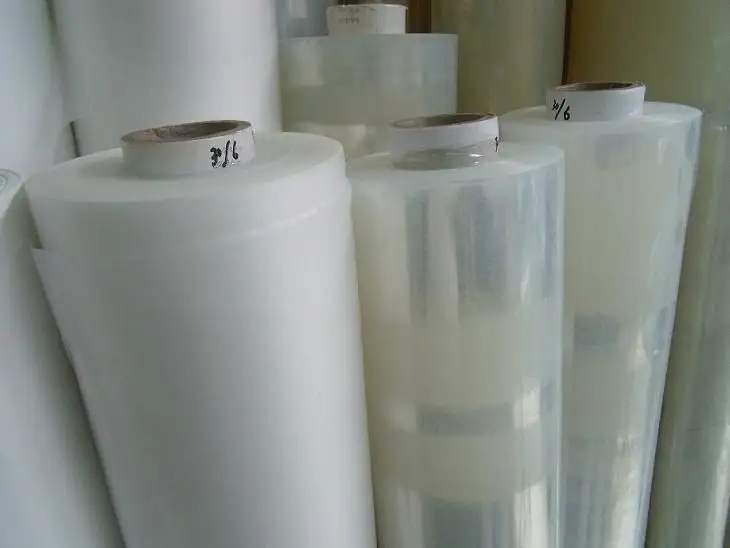 Product Description
1. Product Features:
UV proof for outdoor use
Eco-friendly
Chemical and corrosion resistance
Impact strength
Formability , low flammability
High rigidity and superior strengh, reliable electrical insulation
2. Salient Features:
High transparence
High elongation at break
Optimum tensile strength to tolerate high tensions.
Consumption of high grade raw material in manufacturing process
| | |
| --- | --- |
| Name | PVC transparent film |
| Material | 100% virgin material |
| Size In Roll | Width From 50mm-2300mm |
| Thickness | 0.05mm-12mm |
| Density | 1.28-1.40 g/cm3 |
| Surface | Glossy/Matt/Patterns to choose |
| Color | Normal Clear/Super Clear/Custom Color |
Advantages of pvc transparents pvc film
1. Good transparency, sealing property and tensile strength
2. Vacuumized and excellent temperature resistant.
3. Made of polymer fiber material
4. Good toughness and self-adhesive characteristic
5. Tamper-proof packaging different kinds of furniture
6. Has a variety of specifications available for your choose.
7.Super clear film use for packaging
8.Good quality , reasonable price and friendly services
This type of pvc transparent film is suitable for all kinds of commodity packaging. For example, the outer packaging of mattresses and sponges, the wrapping of mattresses and sponges.